Public Relations Theory and Practice - BSM065
2017/2018
The co-ordinator for this Module is Izzy Crawford.
In addition to the texts on the module reading list, students will be expected to consult a range of relevant trade publications, journals, newspapers and websites to complement their progress. These should include: PR Week, Corporate Communications: An International Journal and the IPRA, CIPR and BBC websites. Recommended texts are marked however earlier or more recent editions, and alternative texts of a similar nature, may also prove helpful. It is not compulsory to purchase any of these books however the following text does provide an excellent, all round overview of the main communication planning theories, specialisms and applications: Edit | Remove Please use the RGU library and other suitable sources to locate these or similar texts.If you encounter any problems accessing books from the library please email library.support@rgu.ac.uk or speak to one of the library staff. Please note that British copyright laws are very strict and you may not copy more than one chapter or more than 10% of any book, whether it is in paper or electronic format.

Digitised Readings

2 items

Communication Theory

81 items

Public relations - Jim Blythe 2012 (electronic resource)

Audio-visual document Recommended

Public relations strategy - Oliver, Sandra, Chartered Institute of Public Relations 2010074945640X,9780749456405

Book Recommended

Business Communication and Professional Writing

8 items

Plain English - Diane Collinson 1992 (electronic resource)

Book Recommended

Redesigning English - Goodman, Sharon, Graddol, David, Lillis, Theresa M., Open University 20079780415376891

Book Recommended

BBC News - Home - British Broadcasting Society 2012

Webpage Recommended A great way to stay in touch with current news stories and observe different writing styles.

bookboon.com 2012

Website Recommended Free e-books which carry adverts every few pages to fund production.

cultsock - Mick Inderwood 2010

Website Recommended This is an excellent resource covering communication, cultural, media.

The Newspaper Society - The Newspaper Society 2012

Website Recommended This gives information about the regional and local press.

Journal Recommended This journal is available in paper in the library.
Creative Commons Attribution Non-Commercial 3.0 Licence
Profile Required
Reading intentions and notes are stored against your user profile. Please create a profile to use this feature.
My notes
You must be logged in to add a note
What are item notes?
You can use item notes to make personal notes on any of your reading items. Notes are private to you and will not be shown to other users.
You can review your item notes from the list, the item page or from your profile page.
---
How do I create an item note?
To make notes, first you must be logged in. Once logged in, simply click Add note? next to the list item you wish to make notes on. You can also make notes at the bottom of every item's detail page.
Your note will be saved automatically as you type.
Have you read this?
You must be logged in to set a reading intention
What are reading intentions?
Setting up reading intentions help you organise your course reading. It makes it easy to scan through your lists and keep track of progress. Here's an example of what they look like: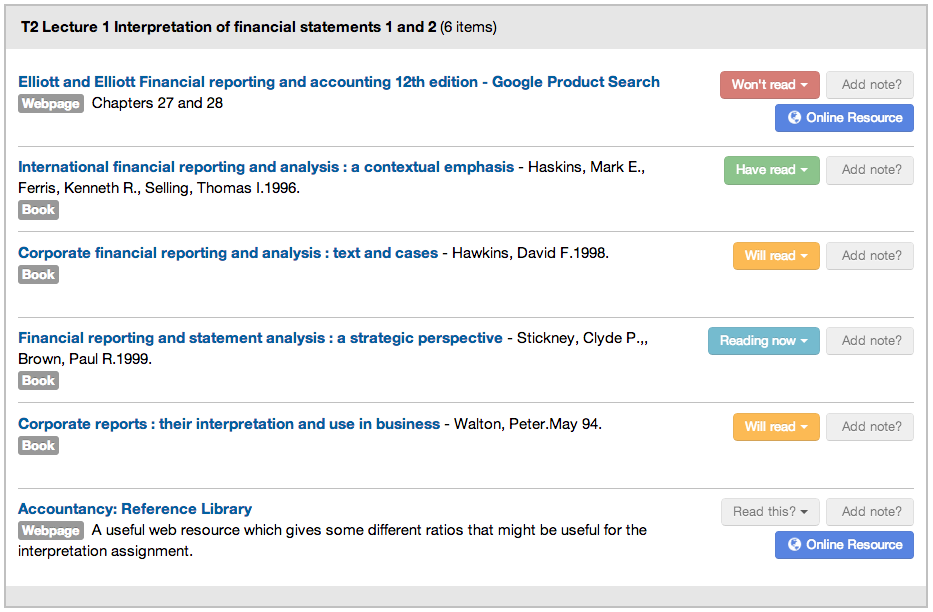 Your reading intentions are also stored in your profile for future reference.
---
How do I set a reading intention
To set a reading intention, first you must be logged in. Once logged in, click Read this? next to the list item you wish to set a reading intention for.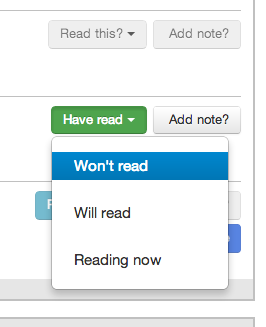 You can also set the reading intention from every item's detail page.